Laser show and show laser - Outdoor/Openair
Flammende Sterne, Ostfildern
Busan Gwangan Grand Bridge
Water fountains international
Openair with more than 50,000 spectators
during the fireworks Championships
Flammende Sterne in Ostfildern, near
Stuttgart.
Busan Gwangan Grand Bridge in South
Korea with two LPS-Bax RGB and two LPS-
Bax Green. Permanent installation.
Whether Government project or customer
order - by laser shows and water fountains
we realize visions in every size.
Pope Benedikt XVI., Beirut
Grand Hotel Reopening
Gotthard Triangulation Switzerland
More than 17,000 young people celebrated
the visit of Pope Benedikt XVI., Beirut,
Lebanon, with peace messages transmitted
via laser graphics.
After renovation work, the reopening of
the 5-stars Pomegranate Hotel on
Chalkidiki in Greece was celebrated
impressively.
Triangulation points by laser beams are
visualized by LPS for the longest railway
tunnel of the world in Switzerland.
Despite heavy rain: Outdoor festival in
Rapperswil-Jona in Switzerland enchanted
with professional fireworks and laser
shows.
This way the largest candle in the world
with Christmas greetings on the
Thyssenkrupp Tower in Rottweil. Height
244 m, width 20 m.
During the night of shooting stars at the
Hohenzollern Castle, several municipalities
were connected by LPS laser beams.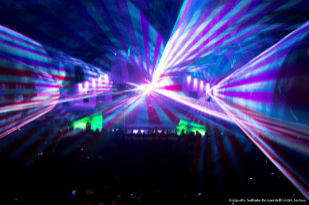 Since 2003, our laser show systems have
reliably enchanted visitors of the famous
"Adventure Night" in the skiing area Serfaus
in Austria.
LPS WORLDWIDE
LPS-Laser produces premium laser show systems and laser shows in Germany. Our
laser show products and laser shows are purchased, installed, rented and dry hired
worldwide, like already in:
Albania, Algeria, Australia, Austria, Azerbaijan, Bali, Belarus, Belgium, Bolivia, Brazil,
China, Colombia, Congo, Cyprus, Czech Republic, Denmark, Egypt, Ethiopia, Finland,
France, Georgia, Germany, Greece, Guadeloupe (Caribbean), India, Indonesia, Iran,
Ireland, Italy, Japan, Kazakhstan, Kingdom of Saudi Arabia, Korea, Kuwait, La
Réunion, Lebanon, Lithuania, Luxembourg, Macedonia, Malaysia, Mali, Mexico,
Morocco, the Netherlands, New Zealand, Oman, Philippines, Poland, Portugal, Qatar,
Romania, Russia, Serbia, Singapore, Slovenia, South Africa, Spain, Sudan, Sweden,
Switzerland, Thailand, Tunisia, Turkey, Turkmenistan, Ukraine, United Arabic Emirates,
United Kingdom, U.S.A., Vietnam, and Yemen.
Download
Dictionary
Laser show - what is it and how does a laser show work?
CONTACT
LPS-Lasersysteme
Mr. Siegmund Ruff / CEO
Haidschwaerze 18
72131 Ofterdingen / Germany
Phone: +49 7473 27 11 77
s.ruff(at)lps-laser.de
SHINE BRIGHT SINCE 1993.








Aquanario, Baroque Castle
Three LPS laser show systems enchanted
the visitors of the openair Aquanario in
Baroque Castle in Mannheim, Germany
with laser graphics and beam shows.
Black Sea Arena, Shekvetili
Permanent installation of LPS-Bax laser
show systems, water fountains and video
projections in front of the Black Sea Arena,
Shekvetili, Georgia.
MANUFACTURE IN GERMANY. Sales. Rental. Worldwide. Since 1993
Page content does not constitute binding advice of any form. All information without obligation and without warranty.
Seenachtsfest, Rapperswil-Jona
Thyssenkrupp, Rottweil
Burg Hohenzollern
Skiing Area Serfaus, Austria
For years, the openair laser shows of LPS
have been the final highlight of the well-
known and very popular Whitsun market in
Angelbachtal.
Whitsun market Angelbachtal
Folk festival Ulm
Outdoor laser shows for the folk festival in
Ulm.
150 years Olperer, Austria
For the 150th anniversary of the first ascent
of Olperer, a unique evening event with
multimedia show and laser show was
celebrated on the panoramic terrace at
3250m on the Hintertux Glacier. Photo:
Hintertux.at
National Day Luxembourg
Laser graphics and laser shows for the
Luxembourg National Day in the municipality
of Clervaux.
City festival Buehl
Laser mapping and laser shows at the
popular city festival of Buehl.